Grow your indoor plant collection with a monthly subscription.
Are you starting your Indoor Plant journey? Or wanting to grow your Indoor Plant Jungle?
Then sign up today and be surprised every month with a specially selected indoor plant delivered to your home or office! Care instructions, tips and tricks included!
Your new Plant Baby is in fact not a baby, it is a well established indoor plant, grown at our suppliers here in New Zealand! We specially source and curate each months subscription box to find the perfect plant, pot and accessory/gift.
Your subscription is shipped on the 3rd Monday of every month to ensure delivery during the week. Nobody wants Plant Baby in a courier van over the weekend. And the best part is... SHIPPING IS FREE!
We offer 3 tiers so you have the luxury of deciding what it is you want - just the specially curated indoor plant, a plant and pot, or a plant, pot and accessory/gift!
We dont have a set subscription time, so you can sign up, cancel or pause your subscription at any time! And dont worry about getting the same indoor plant twice, we haven't had a double in 18 months! Generally we'd say allow for 12 months to get a good variety of Plant Babies but that is totally up to you! Gift your subscription to a friend or family member if you like, simply contact us before the 2nd Friday of each month so we can redirect your box.
Looking for a gifting service? Drop us an email to find out how we can specially curate a fitting gift for your clientele. Perfect for estate agents, property managers, etc.
We are a New Zealand based, small business and ship to every corner of New Zealand.
Check out our previous boxes at the tab above!
Sign Up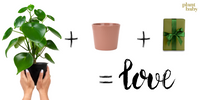 Choose your subscription...
Pot it Like it's Hot!

You Grow Girl!

Feeling Ferncy!
What our Customers say...